The REAL Benefits of a Managed Security Service Provider (MSSP)
The Advantages of Outsourcing Cybersecurity
We've written blog posts on the "5 Benefits of an MSSP" and we had a two-part series on "Increasing SOC Effectiveness. However, MSSP's are evolving quickly to handle more tasks for the client organizations they serve so we wanted to make sure you had a comprehensive list of ALL of the tasks an MSSP can handle. The reason that MSSP's are taking on more responsibility is simply that the SOC's within the client organizations that they serve are being tasked with an increasing number of responsibilities including compliance, vulnerability management with prioritized patching, and proactive testing including penetration tests and posture assessments.
MSSPAlert published a fairly interesting survey of 380 cybersecurity professionals of which 41% of their organizations believe that as much cybersecurity functionality should be outsourced as possible providing the MSSP is good. First, we would hope the MSSP would provide a quality service. Second, the results of this survey are very different from the results of similar surveys published 3-5 years ago. At that time, CISO's, heads of IT Security, and analysts saw MSSP's as a threat to their role within the organization. That is no longer the case – based on what I can tell, the shortage of cybersecurity personnel and the absolute sprawl of SOC responsibilities have created an opportunity for MSSP's to partner more effectively with their clients without creating any "outsourcing" threat.
With that in mind I looked over the blog posts that we've written and realized we could have a comprehensive, but brief post on the benefits that a GOOD MSSP could deliver. Let's try and get that done in this blog post.
The 5 Benefits of an MSSP
https://secureops.com/security/5-benefits-of-an-mssp/
How to Improve Your SOCs Effectiveness – Part 1
https://secureops.com/blog/blog-soc-effectiveness/
How to Improve Your SOCs Effectiveness – Part 2
https://secureops.com/blog/blog-soc-effectiveness-part2/
Last point before we get started; a managed security service provider (MSSP) is an IT service provider that focuses on delivering outsourced cybersecurity monitoring and management services to organizations. Different than a Managed IT Services Provider (MSP) that focuses on managing, maintaining, and servicing an organization's IT environment, MSSPs concern themselves with the continuous state of their customer's security stance. Sometimes Google seems to get confused between the two terms, so we wanted to make certain we had the two acronyms defined as we go into point #1.
Decreased Volume of Cybersecurity Alerts
Most cybersecurity solutions like SIEMs and Firewalls are designed to generate large amounts of data or their users to provide insight for an analyst. The logs and data can help track the state of the protected systems, and alerts created by the solutions provide awareness of potential attacks against the organization.
However, many organizations are overwhelmed with the volume of alerts generated by their security solution. In fact, the average organization's security team receives over 10,000 security alerts per day. As a result, many analysts experience "alert fatigue" and literally ignore legitimate attacks against their network.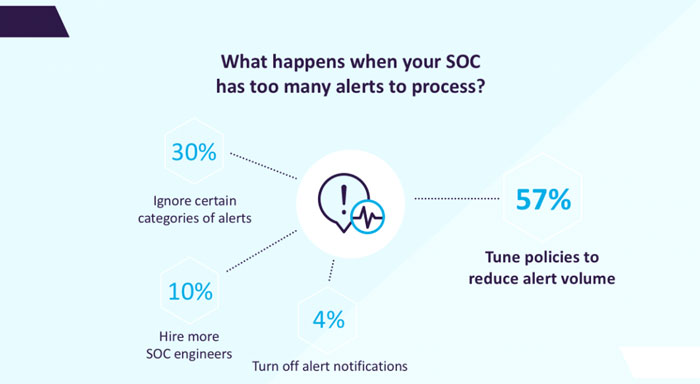 Partnering with a managed security services provider can help an organization to reduce alert overload and make the most of the information provided by their security solutions. A third-party service provider has the tools and the experienced personnel necessary to differentiate between false positives and legitimate threats to an organization's network. This enables an organization to maximize the impact of its security deployment and rapidly respond to cyber threats.
Round-the-Clock Protection and Monitoring
As we all know, cybercriminals do not restrict their attacks to standard business hours. In fact, evenings and weekends are now a common time for cyberattacks. Cybercriminals are beginning to understand and take advantage of times when they are less likely to be detected and blocked.
This makes it necessary for an organization to deploy 24/7/365 threat detection and monitoring including a 24/7 Security Operations Center (SOC). Otherwise, an attack that occurs after business hours might not be detected or remediated until the next morning – after some damage has occurred and the attack is underway.
Typically, a Managed Security Services Provider will provide 24/7 threat detection and response as part of their core offering. This enables an organization to take advantage of continuous protection without the cost of staffing a 24/7 SOC in-house.
As we suggested in our previous blog post on SOC effectiveness, "the most time-consuming task in the SOC is the collection, normalization, and analysis of log and other data. Security logs, threat intelligence feeds, and other security-related data often overwhelm the analysts in the SOC with collecting, analyzing, and archiving tens or hundreds of millions of security events per day. In addition, Firewalls, IDS/IPS and SIEM's are noisy, meaning they are constantly alerting analysts of security events which analysts must investigate to rule out an incident."
The value of a quality MSSP is that they have seasoned analysts that can handle this data at scale, around the clock so that their clients can focus on legitimate incidents and events rather than weeding through data and false-positive alerts.
Correct Configuration of Cybersecurity Solutions
Cybersecurity solutions are not "fire and forget". After purchasing and installing a security solution, it is also important to configure it so that it is capable of protecting the organization's network and systems against cyber threats.
For many cybersecurity solutions, this can be a complex process. Each of an organization's cybersecurity solutions has its own user interface, and the person configuring them needs in-depth knowledge of the particular tool and the organization's network infrastructure in order to configure it correctly. Without this knowledge, the setup process can be extremely time-consuming, and the probability of not tuning the technology effectively is high.
Partnering with a third-party security provider relieves an organization of the responsibility for properly deploying and configuring their more complex cybersecurity tools like Firewalls, SIEM's, and IDS/IPS technologies. Any cybersecurity solution managed by the service provider will be configured and maintained by them, decreasing the burden on the organization's security team.
Access to Trained Cybersecurity Personnel
The cybersecurity industry is experiencing a significant cybersecurity skills shortage. Currently, an estimated 4.07 million cybersecurity positions are currently unfilled globally.
This skills shortage makes it difficult for an organization to fill positions within their security team. This is especially true of roles requiring specialized knowledge and skills, such as cloud security, penetration testing, and incident response. Attempting to fill these positions is likely to be expensive at best and impossible at worst.
Partnering with a Managed Security Services Provider can help to alleviate the issues caused by the cybersecurity skills shortage. With the help of an MSSP, an organization has the ability to augment its in-house security team with security experts who have deep knowledge about specific IT security tasks. Frankly, most organizations cannot justify a full-time cloud migration specialist, IR team, or even a certified ethical hacker. Quality MSSP's not only provide access to IT security specialists but also make certain that they understand the client's business and security goals prior to joining the internal security team and executing their project.
Shared Costs of Cybersecurity Solutions
Cybersecurity tools can be expensive, and the average organization needs a lot of them. In fact, the average organization has 47 different standalone security solutions deployed within their network environment. As a result, the cost of properly protecting the organization against cyber threats can be significant.
Partnering with a Managed Security Service Provider can dramatically decrease the cost of strong cybersecurity. Many of the solutions that an organization requires to protect its network, such as a next-generation firewall (NGFW) and security information and event management (SIEM) solution, can have built-in support for multi-tenancy.
This support for multi-tenancy enables a Managed Security Service Provider to securely support multiple different clients with the same security solutions. This enables the provider's customers to share the costs of appliances and licenses across its entire customer base. Consequently, the client can achieve the same level of security at a fraction of the cost of hosting the same solutions in-house.
Rapid Incident Response and Remediation
Rapid response is essential in the wake of a cybersecurity incident. The longer that an attacker has access to an organization's network, the more sensitive data that they can steal, and the more damage can be done.
Effectively responding to a cybersecurity incident requires access to cybersecurity personnel with specialized skill sets; including digital forensics and malware analysis. Gaining access to this expertise rapidly after an incident occurs might be difficult if an organization does not already have a relationship in place. While many companies do now have incident response plans, the Ponemon Institute found that 77 percent of organizations haven't "applied them consistently across the enterprise."
A typical MSSP will use its monitoring and analysis capabilities combined with IR experience to identify potentially serious security events. When an event is uncovered, the MSSP will often escalate it to the organization's security contacts along with recommendations to defend or countermeasure the attack. The security analysts in the client firm are typically responsible for the initial review of an escalated event to confirm whether it poses a threat to the organization. If the threat appears to be valid, the security analyst invokes the appropriate threat response process according to the organization's own internal IR policy.
Partnering with a Managed Security Service Provider ensures that an organization has access to an incident response team when they need it and that the team has a clear understanding of the organization, their policy and processes, and how to effectively stop the attack progression effectively.
Simplified Regulatory Compliance
Because of new compliance legislation, particularly in North America and Europe, organizations are required to prove their state of security is compliant with government and industry regulations constantly. Over the past 2 years with the implementation of privacy legislation many organizations rely heavily on MSSPs to assess, track and document the state of their adherence to compliance mandates such as the Payment Card Industry Data Security Standard (PCI-DSS), the European Union's General Data Protection Regulation (GDPR), and the Health Insurance Portability and Accountability Act (HIPAA).
Many organizations are subject to multiple data protection regulations – even small retailers with a database of prospects and customers now have to not only deal with PCI-DSS, but also GDPR and CCPA. New laws like the General Data Protection Regulation (GDPR) and the California Consumer Privacy Act (CCPA) have joined existing regulations such as the Payment Card Industry Data Security Standard (PCI DSS) and the Health Insurance Portability and Accessibility Act (HIPAA) to add enormous cost and complexity to handling sensitive data or PII.
With this growing regulatory landscape comes an expansion of an organization's responsibilities regarding achieving and demonstrating compliance with the new laws. This can make it difficult for an organization to keep up with its security and reporting responsibilities.
A Managed Security Service Provider can help to reduce an organization's compliance burdens. This can involve implementing security controls to meet regulatory requirements and collecting data and generating audit reports, at a minimum.
Proactive Threat Assessments
Many organizations take a reactive approach to cybersecurity. Once a security incident has been identified, they attempt to diagnose the incident and take action to remediate it. This approach to finding security holes within an organization's network is ineffective but worse, it comes at the cost of significant damage and expense.
Further, security best practices are constantly evolving. From ITIL incident management frameworks to NIST/CIS 20 & ISO guidelines as well as leading-edge Zero Trust models, it's common for IT teams to get overwhelmed by the theories, details, and implementation issues. MSSP's can bring experience to design and implementation while internal teams focus on the efficiency and effectiveness of their day-to-day operations. MSSPs deliver best-of-breed solutions that ensure current practices align with industry expectations.
Finally, quality MSSP's will likely include proactive threat assessments as part of their service offerings. This can enable an organization to identify and close holes or vulnerabilities before they are exploited by an attacker.
Choosing the Right Third-Party Security Solution
While many organizations offer managed security services, not all service offerings are created equal. Some services lack 24/7 monitoring while others may not be capable of responding to a security incident. In addition, ninety-six percent of organizations agree that cybersecurity awareness training "was at least somewhat effective" in reducing security incidents, according to a survey conducted by the Canadian Internet Registration Authority. But deploying cross-enterprise education plans is time-consuming and demands expertise in the tactics used by attacks. MSSPs can help organizations design and deliver training across silos and departments at scale.
Many organizations with less than 500 employees that recognize the need for enhanced security but lack the internal expertise or budget are viable candidates for employing an MSSP. MSSPs can also offer industry-specific expertise including retail, financial, and manufacturing to name a few, to ensure these organizations are both secure and compliant.
Finally, and perhaps most importantly, the risk cyber attacks pose to a business has become both tangible and measurable in terms of fines, litigation, brand damage, and in the case of many ransomware attacks, physical damage to systems. Organizations that understand the realities of cyber-risk also realize how leveraging an MSSP to reduce those risks is a cost-effective choice when compared to the cost of remediating a breach, ransomware attack and subsequently paying out the related costs.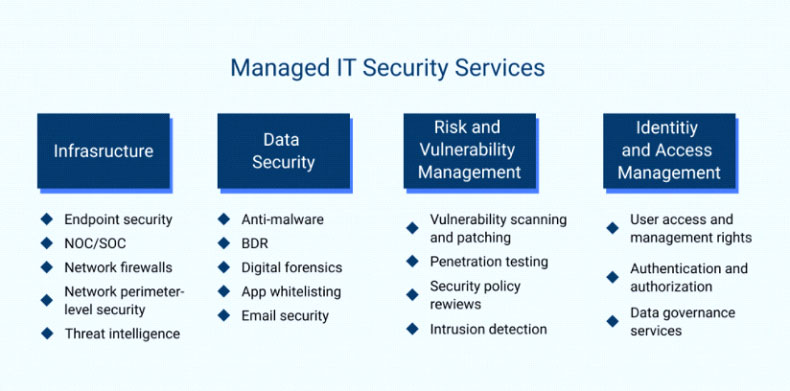 To Learn More About How an MSSP can Help You or If You Have Been Attacked Please Call Us – as Always, We Are Happy to Help – 1 (888) 982-0678.
You Can Also Fill Out Our Contact Us Form Here to Talk with a Security Specialist – https://secureops.com/contact-us/