The Benefits of Migrating Your SIEM Solution to the Cloud
SIEM's Role in Network Security Analysis and Monitoring
Before we get started with our article discussing the benefits of migrating your SIEM, we want to lay the groundwork for the discussion using a variety of blog posts that we wrote previously. We put together a series of blog posts that deal with Network Security Design and Log Monitoring that are providing you with clear, straightforward information about the real basics of Network Security. In our last blog post, we addressed Log Monitoring and Management and why they are so critical to gathering insight into an organization's IT Security status and issues. 
In addition, we addressed "The Fundamentals of Network Security Analysis and Monitoring" in a blog post where we discussed actively versus passive security devices, flow analysis versus packet analysis, and several security technologies used to analyze or stop traffic, including IDS/IPS technology. Prior to that blog post, we wrote another post titled "Network Security Design is Critical to Eliminating Security Gaps and Reducing Costs" – "The 5 Pieces to the Cybersecurity Puzzle," where we discussed the five core elements of Secure Network Design. 
With those resources at your fingertips, let's start discussing migrating your SIEM to the cloud. The before Adopting a SaaS SIEM report, Gartner predicted that by 2023, 80% of SIEM solutions will have capabilities delivered via the cloud. As business migrates to the cloud, one truth becomes undeniable: Keeping your network safe will require the speed and efficiency of AI-powered analytics within scalable cloud-native solutions to keep pace with today's threats and manage risk. Clinging to legacy solutions with basic rule-based detection and limited scalability can leave your organization vulnerable to many of today's threats.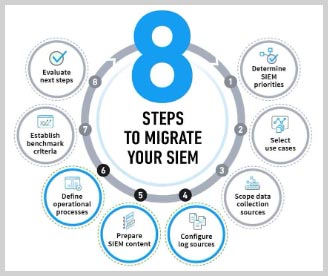 Deploying modern security information and event management (SIEM) in the cloud is increasingly being adopted. Like any transition, moving SIEM to the cloud can be challenging–but with the proper planning, determined leadership, and experienced managed services partner guidance, your migration to a cloud SIEM solution can be completed quickly and cost-effectively.
The benefits of migrating to a SIEM cloud solution with SecureOps include:
Faster time to security

 – Like other cloud-based applications, a cloud SIEM can be deployed in a matter of hours rather than weeks or months like traditional SIEM platforms that need on-site implementation. That often requires a lot of resources, people, and time. Cloud SIEMs can be spun up, connected to your services, and start collecting and analyzing data right away for immediate detection coverage.

Lower total cost of ownership

 – Some SIEMs require more upfront capital investment to implement, train employees on how to use, and additional licensing fees based on pricing models. Some price by the amount of data ingested, and others charge by the number of users. 
Improved time to detection – If your cloud SIEM comes with pre-written detection rules that can be deployed with the platform initially, you can improve your time to identify common attacks by eliminating the resources required to develop your own security detections. Faster time to detection and containment means less overall impact a security event has on your organization.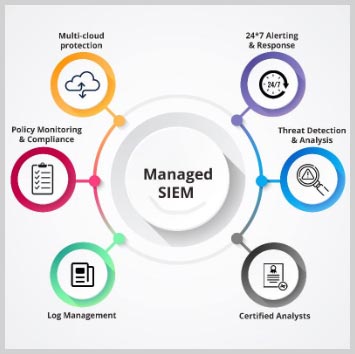 Consolidate security capabilities

 – A cloud SIEM can combine both log collection, analysis, parsing, detection, and response into one platform with a few centralized dashboards – eliminating the need for your small teams to switch between siloed and disparate solutions to monitor each tool in your IT environment.

Integrity of data stays intact

 – A cloud SIEM allows you to keep your forensic trail of raw logs to ensure data hasn't been tampered with by attackers trying to delete or alter evidence of their activity within your environment. An on-premises SIEM could allow an attacker to remove the audit trail associated with their attack if they had a password and could gain access to the system.

Scale network architecture without losing time or worrying about log volume

– Since a SIEM solution functions by collecting log data from the network, it will handle large volumes of log data daily. With an on-premises solution, it's hard to accommodate sudden spikes in log volumes. This becomes an even bigger problem when your organization is considering expansion. The scalability and elasticity of cloud-native solutions extend to cloud SIEM as well. With a cloud SIEM solution, organizations need not worry about scaling up to meet huge log volume requirements on time. With quick deployment and flexible data plans, you can log as much or as little as you need without losing time.
Conclusion
In conclusion, SIEM is a highly valuable component in Cybersecurity Design. It can help an organization maintain control over its network by providing comprehensive log monitoring and management to detect potential security issues. By migrating your SIEM solution to the cloud, you can maximize its performance levels, improve data collection and analytics, leverage increased scalability options, and gain access to world-class support capabilities. 
Further, you can experience significant cost savings when compared to traditional on-premise solutions. Ultimately, the benefits of managing your SIEM from the cloud are numerous; however, knowing the details and choosing the right vendor partner for your unique needs is essential. If you're interested in learning more about SIEM migration and what it entails for your company, don't hesitate to reach out: our team of experts at SecureOps is here to help you make the best decisions for your business. Call today to start exploring the possibilities!